Commander un dessin ?!
Se rendre ici pour plus d'informations. Me contacter par mail.
       .

A propos de l'auteur Chris McAl
Christopher McAllistair
Date de naissance : 30 novembre 1986
Messagerie instantanée : Chris_Scotland@hotmail.sco (MSN)
Ville : edinburgh

Quelques mots sur moi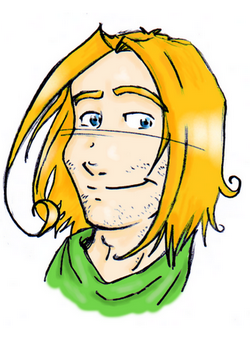 About me ? Aaw... I'm Scottish, I live in Edinburgh, and... I study Biology, I'm in my third years at the university, at the School of Biological Sciences.
I'm fond of playing bagpipe, 'cause this is in my blood, and I love this instrument. Huhu... 'And... I love hiking, so during the holidays I organize excurcion around the loch with my friends and tourists, well, mostly with my friends... I support Scotland team of rugby and I love going to their matches, because, well, they're not very good, but they are really engaging ! And its supporters are just perfect, as me. =p
Eew... I'm Scottish so I love our Whiskey ! ...
Well... That's all I think... You can ask me questions if you want !
Most about me here >> [link !] This is in French ! ;]
.
Mes centres d'intérêt
.
- Doing sport, team's sports as Handball, I like it ! [However... I'll never play football ! Cheaters' sport...]
- Hiking
- Playing bagpipes
- Dissecting mouses and frogs, lol, that's really cool you know ! >=]
- Sending time to the pub with friends
- Watching rugby's matches...
.
Mes films préférés
.
Hm... I enjoy action's movies, mostly when they're speaking about my country I always burst out of laughing, because a lot of things are wrong [Sometimes !] ! But it's funny to see how foreign people see us, the Scottish ! And to see my brothers win a lot of battles ! So I think that I like...
In first, Braveheart, Mlice really enjoys watching it too ! [Link !]
And then, Highlander, the first ! Just because LOL. McLeod is enormous ! xD [Link !]
.
Mes musiques préférées
.
My favorite band is The Red Hot Chili Pipers ! They are too... I love them, Scotland can be proud of them ! I'm Bagpiper, so... Loving them is normal, isn't it ?
And I enjoy listening to The Real McKenzies too, but they're Canadians... Scottish-Canadians ? Yer... Fortunately Scottish ! The piper is a good player and the lyrics are funny, as some tunes ! "Punk's way on a Scottish road."
.
Mes livres préférés
.
Ow... I don't know... Maybe... Ivanhoe by Walter Scott ! I was a teenager when I read it... But I have some great memories of this one... I love reading knights' story ! They were cool ! Pride and Honor !
.